Our Beers
Brewed from the finest malts, hops and yeast, all our beers are made using traditional methods with no artificial additives.

Unpasteurised and non-filtered, all our beers are naturally bottle conditioned to provide a smooth and flavoursome finish.

Contrary to mass-produced beer, our craft-made brews continue to mature in the bottle. The natural yeast deposit is proof that our beers are real ale in a bottle and retain all their flavour and aroma.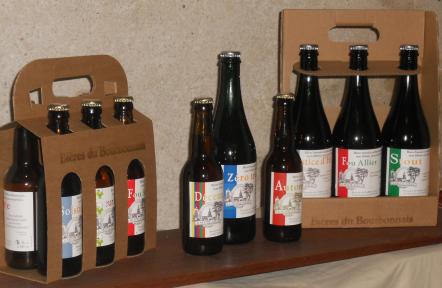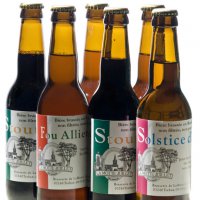 BOTTLED BEERS
Our beers come in 33cl and 75cl bottles. We offer cases of 12 x 33cl and 6 x 75cl, as well as gift packs of 6 x 33cl and 3 x 75cl.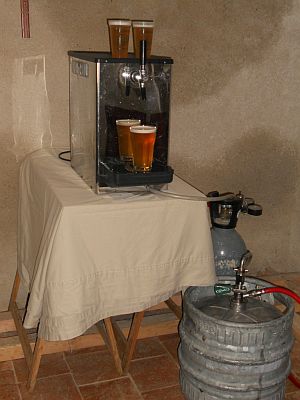 DRAUGHT BEER
There's nothing better than a glass of La Motte Juillet beer on draught. We supply the chilled dispense unit free on loan, as well as eco-friendly re-usable gobelets.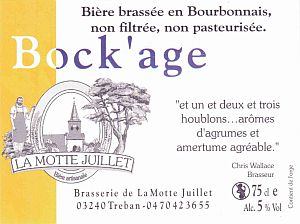 BOCK'AGE (5%)
This pale coloured ale is brewed with three different aroma hops. It is noted for its citrus flavour and its pleasant and thirst quenching bitterness. Brewed all year round.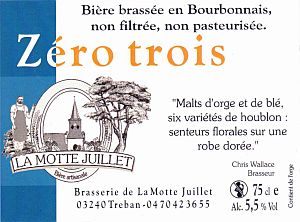 ZERO TROIS (5.5%)
A golden coloured brew packed full of floral character thanks to 6 different hops. Brewed all year round.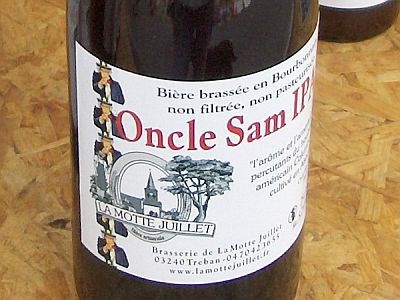 ONCLE SAM IPA (5.7%)
A very hoppy IPA brewed with the American hop Columbus - now grown in Alsace.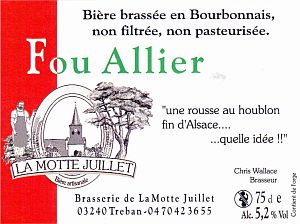 FOU ALLIER (5.2%)
Our malty copper coloured ale is brewed with one variety of hop from Alsace. Brewed all year round.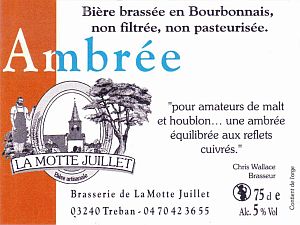 AMBRÉE (5%)
Amber in colour, this ale belongs to the "Best Bitter" family and is well balanced between hops and malt. Brewed all year round.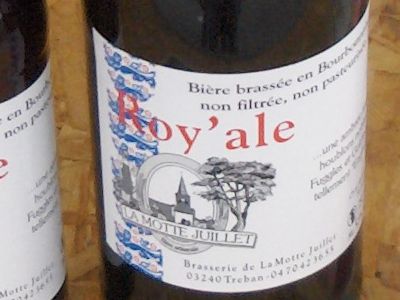 ROY'ALE (5.9%)
A rich best bitter hopped with two classic varieties Fuggles and Goldings.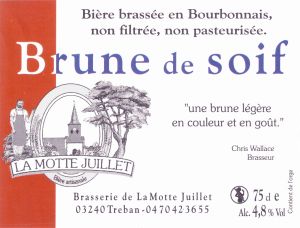 BRUNE DE SOIF (4.8%)
A brown ale light in colour and flavour for those who want to quench their thirst with something different. Brewed all year round.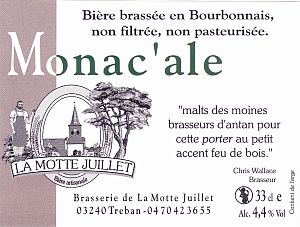 MONAC'ALE (4.2%)
A true English "porter" brewed using brown malt which gives it its distinctive smoky flavour. Brewed all year round.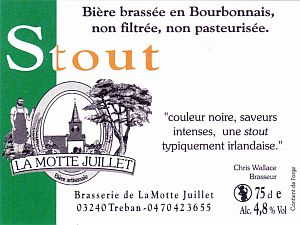 STOUT IRLANDAISE (4.8%)
Our Irish Stout is brewed as it should be with some roasted barley and bags of hops giving it its true celtic character. Brewed all year round.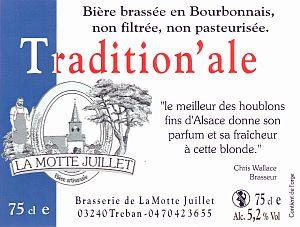 TRADITION'ALE (4.9%)
Two fine hops from Alsace supplied to us directly by the growers give this blond beer a delicate and fresh aroma. Brewed according to hop availability.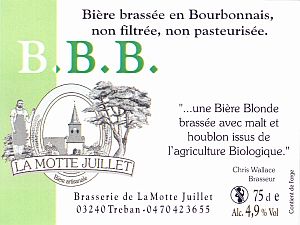 B.B.B. (4.9%)
This light and pleasant blond ale is brewed with certified organic malt and hops.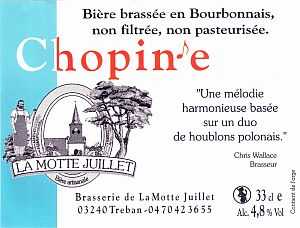 CHOPIN'E (4.8%)
Hopped with two Polish varieties for a harmonious pale ale. Brewed depending on hop availability.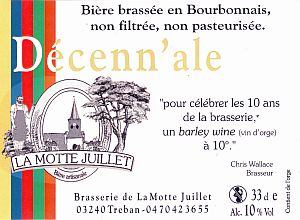 DECENN'ALE (10%)
A special barley wine brewed to celebrate our tenth birthday.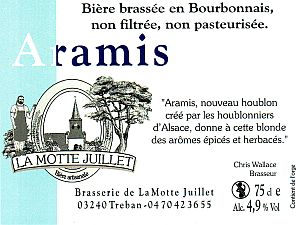 ARAMIS (4.9%)
Aramis is a new hop variety from Alsace, which gives this blonde beer its floral spicy aroma.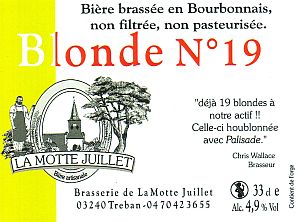 BLONDE 19 (4.9%)
The 19th blond beer created at La Motte Juillet, hopped with "Palisade", an Amercan variety with orange-flower aroma.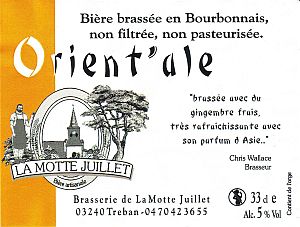 ORIENT'ALE (5%)
Brewed with fresh root ginger, l'Orient'ale is a deliciously refreshing ginger beer for those long, hot summer days.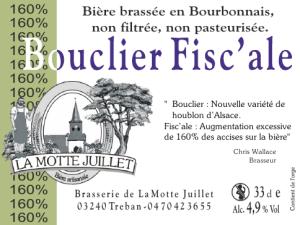 BOUCLIER FISC'ALE (4.9%)
New English style bitter brewed with "Bouclier" a new Alsatian hop variety; also our continued protest against the excessive increase in beer duty.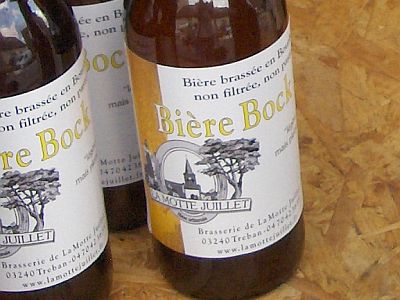 BIÈRE BOCK (3.7%)
An easy-drinking session beer lightly hopped with Styrian Goldings.
Bières de Saison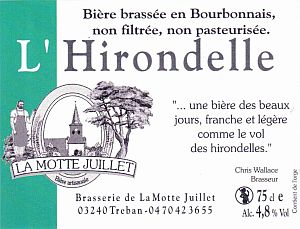 L'HIRONDELLE (4.8%)
Our Spring and Summer blond ale is an easy drinking refreshing beer. April to September.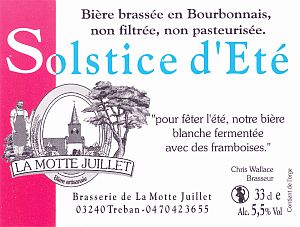 SOLSTICE D'ETE (5.5%)
Raspberry wheat beer. June to September.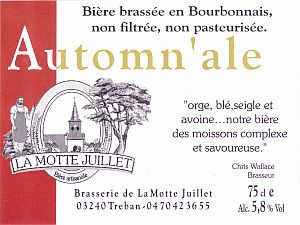 AUTOMN'ALE (5.2%)
Our harvest ale brewed with malted barley, wheat, oats and rye to give it a full and rich flavour. September to December.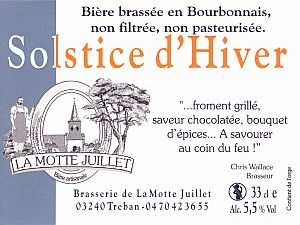 SOLSTICE D'HIVER (5.5%)
This spiced dark wheat beer has a gorgeous chocolatey flavour.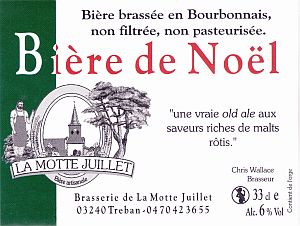 BIÈRE DE NOËL (6%)
A deep ruby coloured "Old Ale" to warm you up at Christmas. November to January.
Série Fleur de Houblon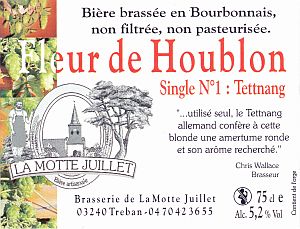 FLEUR DE HOUBLON N°1 "TETTNANG" (5.2%)
Tettnang comes from Bavaria and gives a soft bitterness and floral aroma.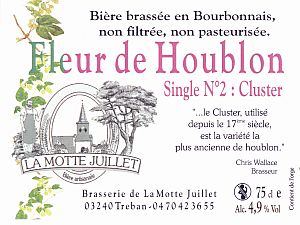 FLEUR DE HOUBLON N°2 "CLUSTER" (4.9%)
Blackcurranty Cluster is probably the oldest hop variety still grown.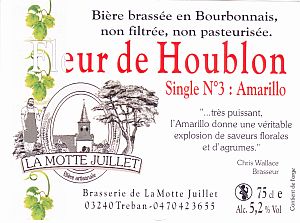 FLEUR DE HOUBLON N°3 "AMARILLO" (4.7%)
Amarillo - immensely fragrant and powerful hop with amazing grapefruit aroma.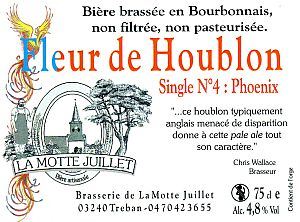 FLEUR DE HOUBLON N°4 "PHOENIX" (4.9%)
The fourth in our "Fleur de Houblon" series, Phoenix is an English variety under threat of extinction. This beer is a true English ale (brewed in France of course !!).


Special Beers